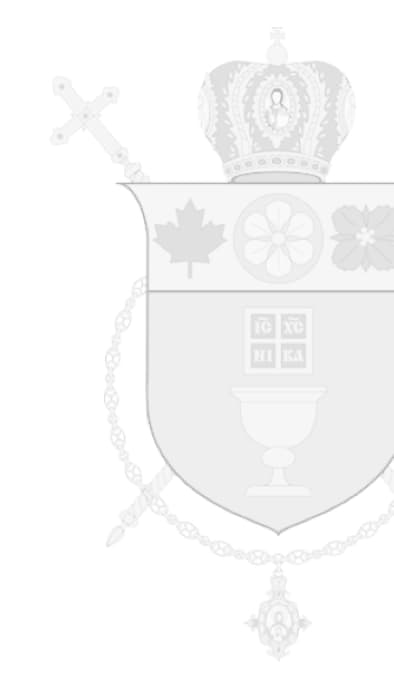 Courses
The Sheptytsky Institute offers a wide array of courses in Eastern Christian theology, history, liturgy and spirituality. Some courses are offered in alternate years.
As part of their programs, Sheptytsky Institute students also take USMC courses, as well as courses in other colleges in the Toronto School of Theology (TST) ecumenical consortium.
All courses taught by Sheptytsky Institute faculty take place at Sheptytsky Institute, Windle House, 5 Elmsley Place, on the campus of the University of St. Michael's College in Toronto.
For a listing of courses for the current and upcoming academic year, please visit the TST website.
From the subapostolic age to the "Triumph of Orthodoxy" in the East and the Carolingian revival and Treaty of Verdun in the West. Geographical expansion of the church; the relation of Christian faith to cultural settings and other religions; the development of doctrinal and ethical positions; forms of Christian life and worship; the rise of Islam.

Date: Mondays
Time: 19:00 - 21:00
Instructor: Fr. Andrew Summerson
Location: Seminar Room, Windle House and Remote Delivery

Gregory Nazianzus called Origen "the whetstone of us all." In this advanced degree seminar, spend the semester reading the sparks that caught fire and forged Christian theological language, biblical interpretation, and engagement with secular philosophy and sciences.

Date: Thursday
Time: 14:00-16:00
Instructor: Fr. Andrew Summerson
Location: Seminar Room, Windle House and Remote Delivery

This course provides a survey of Eastern Christian teaching on the Triune God that focuses both on patristic and contemporary authors read in English. The course situates doctrine within the broader array of Holy Tradition (Scripture, Fathers,Councils, Creeds, Liturgy, Iconography, Hagiography, etc.), paying attention to the historical contexts in which various teachings arose and were defined. Comparisons will be made between Eastern and Western Christian approaches to certain questions, with some attention to ecumenical repercussions. Apophatic and antinomic approaches to theology will be emphasized as well as the connection between doctrine and spirituality.

Date: Wednesday
Time: 17:00-19:00
Instructor: Fr. Andrew Summerson
Location: Seminar Room, Windle House and Remote Delivery