Calendar - Balthazar and Bulgakov on the Incarnation
Balthazar and Bulgakov on the Incarnation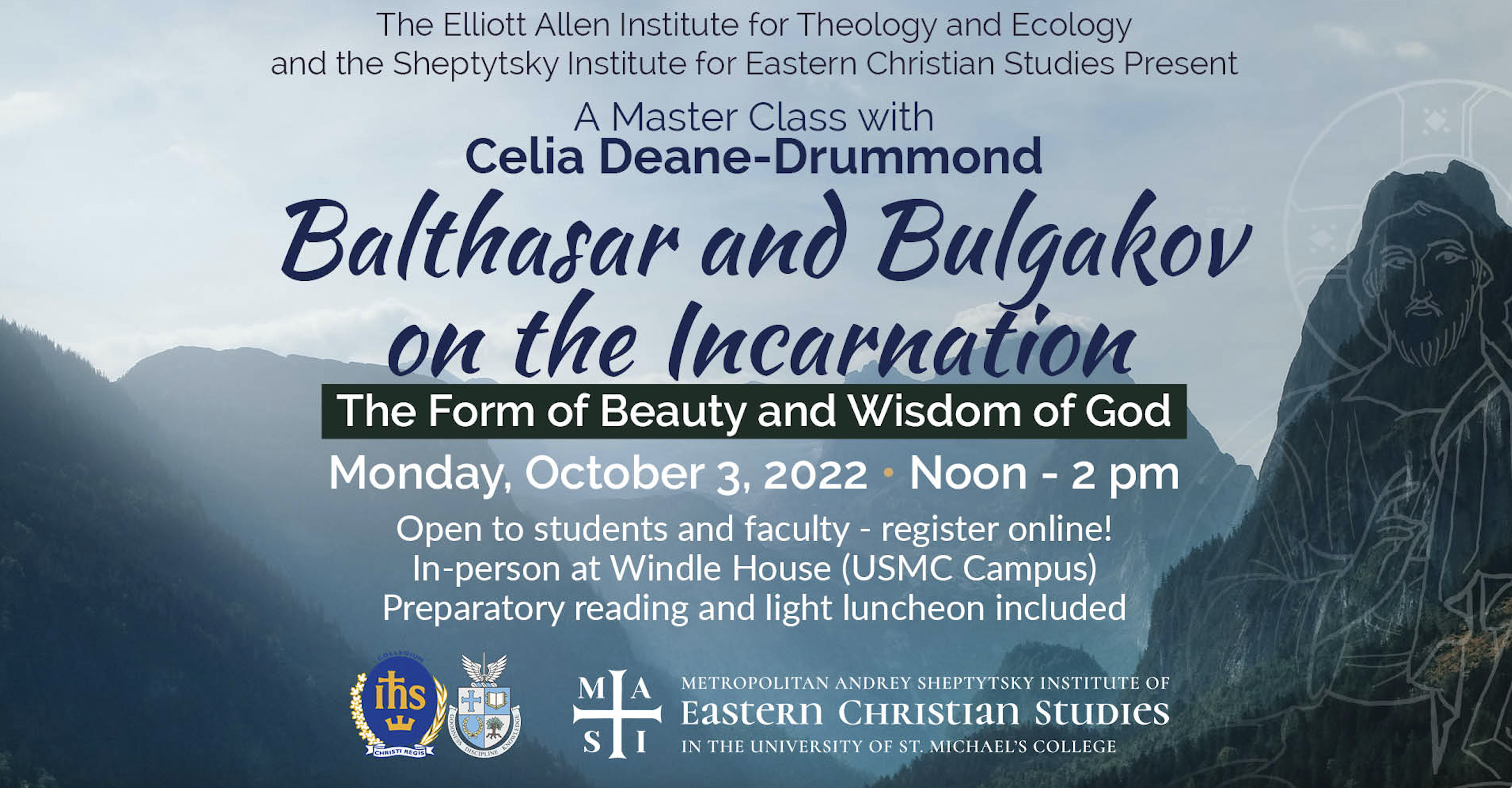 The Elliot Allen Institute for Theology and Ecology and the Sheptytsky Institute for Eastern Christian Studies Present
Master Class and Lecture with Celia Deanne Drummond
October 3, 2022
Dr. Celia Deane-Drummond is the director of the Laudato si' Research Institute and Senior Research Fellow in Theology at Campion Hall of the University of Oxford
MASTER CLASS
Balthasar and Bulgakov on the Incarnation: The Form of Beauty and the Wisdom of God
Two of the most creative theological minds of the 20th century, Sergei Bulgakov and Hans Urs von Balthasar are responsible for interpreting and presenting Early Christian and Eastern Christian sources to the West. This master class will compare these authors to think through the incarnation's relationship to the created world.
Open to Students and Faculty: Register by clicking here. Preparatory reading will be made available upon registration for the class.
Time: Noon-2 PM; Light luncheon will be served.
Location: Windle House (USMC Campus) This is an in-person only event.
LECTURE 
"Loving God and Creatures: Humanity's Search for the Transcendent in Evolutionary-Ecological Perspective"
Description: The start of human evolution was a precarious one, fraught by drastic climate change, threats from giant predators and other risks. In dialogue with evolutionary anthropology, including recent discoveries of burial practices among early hominins, this lecture argues that a sense of transcendence, like the fundamental ability of human beings to show long term compassion towards others, including other creatures, is distinct to our human lineage. Capacities for specific dispositions such as compassion do not suddenly appear in human communities, but rather have a complex biocultural origin.  Using wisdom, humility and grace as case studies, the lecture also draws out examples of how each can be fruitful loci of dialogue and discussion between theologians and scientists on human becoming and why this is important for understanding the way we act today.
Time: 7-8:30 PM. Reception to follow.
Location: Senior Common Room (USMC) and via Zoom.
Join Zoom Meeting
https://us06web.zoom.us/j/82316540404?pwd=TEJaMVNGZ1BSaDhYYU9uWFpmVVF0UT09
Meeting ID: 823 1654 0404
Passcode: 181276
Please direct inquiries to Dr. Hilda P. Koster (hilda.koster@utoronto.ca)